Barclays Wyndham Earner
Wyndham Rewards® EarnerSM Card Review
2021.7 Update: The new offer is 60k, and this is the best offer on this card.
2020.9 Update: The offer is now 30k and the card is revamped.
Application Link
Benefits
60k offer: earn 45,000 Wyndham points after spending $1,000 in the first 90 days; earn an additional 15,000 Wyndham points after spending $2,000 in total in the first 6 months. That's 60k points in total. This is the best offer on this card.
Wyndham points are valued around 1.0 cents/point (Hotel Points Value), and the redemption structure is very simple with only three tiers of redemption: 7.k/15k/30k points.
"

go free

 Faster": Redeem 10% fewer Wyndham Rewards points for award nights. That means you only need 6.75k/13.5k/27k points for redemption.
Cardmember discount: 7% or 12% off of the Best Available Rate for card member (5% or 10% off for regular member).

Earn 5 points per $1 spent on eligible purchases made at Hotels By Wyndham as well as on qualifying gas purchases; Earn 2 points per $1 spent on eligible dining and grocery purchases (excluding Target and Walmart); Earn 1 point per $1 spent on all other purchases (excluding Wyndham Timeshare resorts down payments).

Annual Bonus: 

Earn 7,500 bonus points each anniversary year after you spend $15,000 on eligible purchases.

Automatically receive a Wyndham Rewards 

Gold

 Membership.
No foreign transaction fee.
No annual fee.
Disadvantages
The free night is typically not worth a lot since most Wyndham hotels are not very expensive.
Note that Wyndham points expires after 18 months for inactivity, and expires after 4 years no matter what. Therefore it is not a good idea to accumulate a lot of Wyndham points if you don't plan to stay in Wyndham in the near future.
Recommended Application Time
Barclays value the number of recent hard pulls a lot, we recommend you apply when you have less than 6 hard pulls in the past 6 months.
[6/24 rule] Similar to Chase 5/24 rule, Barclays will reject your application if you have 6 or more new accounts in the past 24 months. Note that this is a soft rule for Barclays.
We recommend you apply for this card after you have a credit history of at least one year.
Summary
We recommend applying for the Barclays Wyndham Earner Plus for a higher welcome offer, and then downgrading it to this no annual fee version when you don't want to pay the annual fee anymore. It's really nice that the reward night discount and card member discount are also on this no annual fee card.
Related Credit Cards
| | Barclays Wyndham Earner | Barclays Wyndham Earner Plus | Barclays Wyndham Earner Business |
| --- | --- | --- | --- |
| Annual Fee | $0 | $75 | $95 |
| Annual Points | 7,500 (if spending $15,000 or more) | 7,500 | 15,000 |
| Bonus Categories | Earn 5 points per $1 spent on eligible purchases made at Hotels By Wyndham as well as on qualifying gas purchases; Earn 2 points per $1 spent on eligible dining and grocery purchases (excluding Target and Walmart) | Earn 6 points per $1 spent on eligible purchases made at Hotels By Wyndham as well as on qualifying gas purchases; Earn 4 points per $1 spent on eligible dining and grocery purchases (excluding Target and Walmart) | Earn 8 points per $1 spent on eligible purchases made at Hotels By Wyndham as well as on qualifying gas purchases; Earn 5 points per $1 spent on eligible marketing, advertising services, and utilities |
| Wyndham Elite Membership | Gold | Platinum | Diamond |
| Best Sign-up Bonus | 60,000 | 90,000 | 90,000 |
After Applying
Historical Offers Chart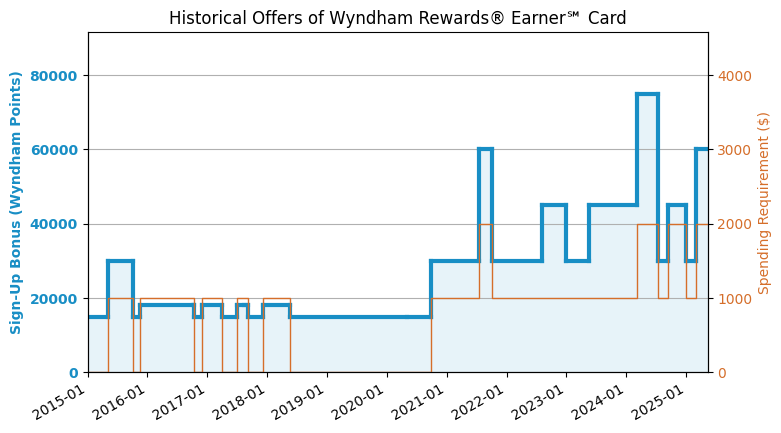 Application Link